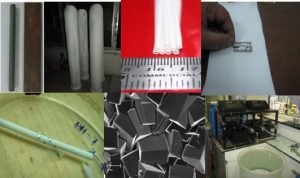 The activity of ceramic membrane started in 1993-94 in this institute. Ceramic Membrane Division was came to existance on December, 2004 and building was constructed in June, 2007. The Division achieved international recognition when it organized "International Conference on Catalysis in Membrane Reactors" (ICCMR8) during 18-21, Dec., 2007.
The R&D activities primarily focused on development of low cost ceramic membranes in tubular configuration including system design and development of prototypes for membrane based separation process.
The ceramic membrane used as support for coating of organic/inorganic materials to get desired size for specific applications at water/wastewater and gas separation process.
The Division is equipped with analytical facility for characterisation of ceramic materials and fluid components. It have in-house facility for fabrication of ceramic hollow fiber, zeolite composite, Pd coating, high temperature gas separation, silicon carbide composite membranes etc.
The Division managed 38 projects including 6 international collaboration till date and currently have 4 ongoing projects. Currently division has 4 scientist and 1 technician.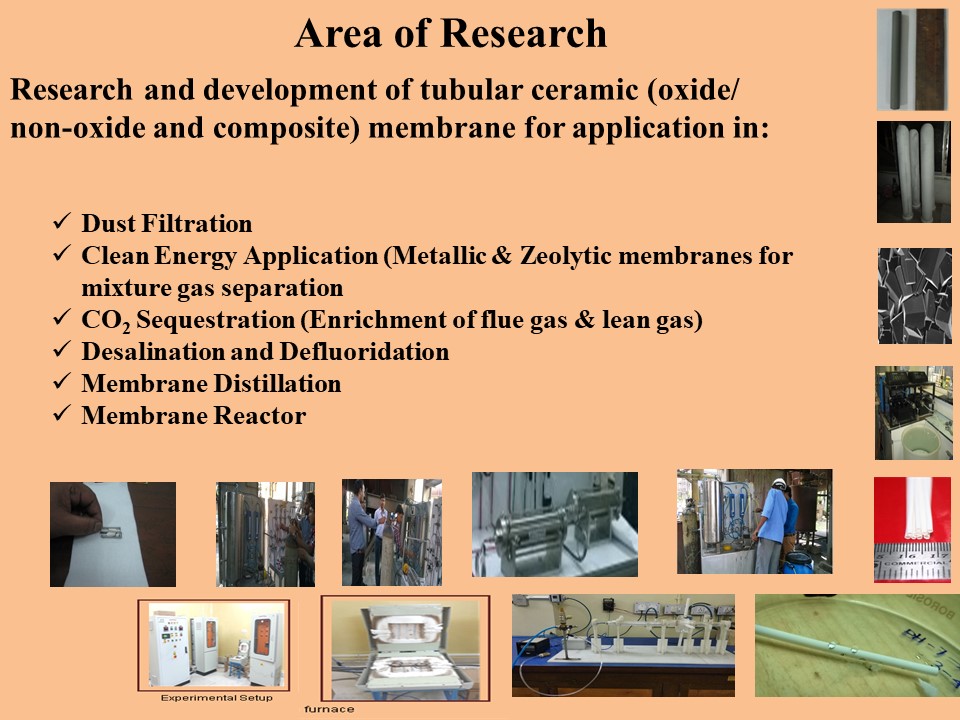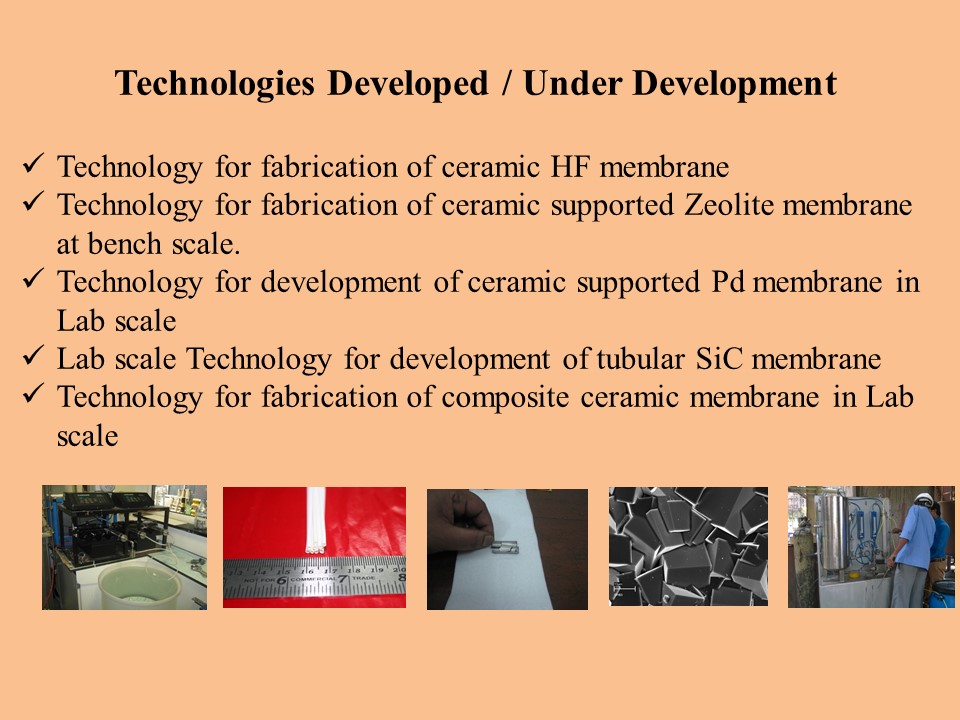 Current/Ongoing projects
| | | | | |
| --- | --- | --- | --- | --- |
| Sl. no | Title | PI/Co-PI | Duration | Funding |
| 1 | Development of layered SiC ceramic filter for off –gas cleaning | PI: Dr. Nijhuma Kayal | March 2018-March 2021 | DST |
| 2 | Development of palladium based membrane over porous stainless-steel substrate for selective separation of hydrogen from mixture of gases | PI: Dr. Subrata Dasgupta | April 2018-April 2021 | BRNS |
Completed Projects
1.Membrane Technology for Hydrogen Recovery from Low Hydrogen Bearing Refinery off gas by Carbon Molecular Sieve (CMS)-Energy Efficient Technologies (E2++)
2.Development of palladium based membrane for selective separation of hydrogen from hydrogen – helium mixture
3.Preparation of all silica zeolite membrane for gas separation of HI decomposition reaction
4.Feasibility studies of enrichment of BF gas for enhancement of calorific value
5.Ceramic Hollow Fibre Membrane Based Contactor for Natural Gas Purification
6.Ceramic membranes for CO2 Capture in Smelter Off-Gas – Stage
7.Ceramic Materials For Emerging Technologies Involving Liquid and Gas Separation – CSIR Supra Institutional Project of CGCRI (Task- I: Development of technology for manufacturing monolith/ Hollow Fibre support structures & Task- II: Development of Industrial Waste Water Purification Technology based on Ultra-filtration Membrane developed under task I)
8.Cleaning of hot gas from high ash containing low grade Indian Coal
9.Synthesis of oxide bonded porous SiC ceramics by bond phase precursor infiltration technique
10.Synthesis of Novel composite material using coir fibre for engineering application-Coir Board
11.Prototype development using SiC based tubular substrate from cellulosic material for coal based IGCC technology (under task 5 of Supra Institutional Project 'Ceramic materials for emerging technologies for liquid and gas separation)
12.Development of Hydrophobic Ceramic Hollow Fiber Membrane (HCHFM) for MD-based Domestic Water Purification System
13.Development of Ceramic Membranes for Gas Separation Applications in S-I and Cu-Cl cycles For Clean Energy Production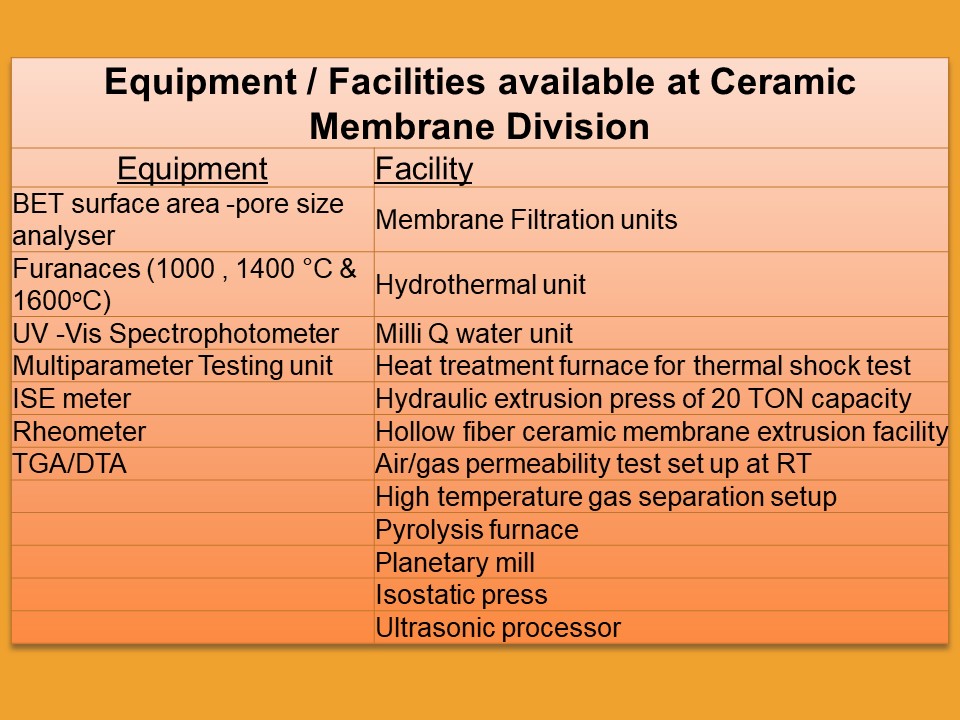 | | | | |
| --- | --- | --- | --- |
| Name | Designation | Contact no. | Expertise |
| Mr. Gouranga Chalak | Technician (2) | Mob:9800437548, Email: g_chalak@cgcri.res.in, Extn: 3253 | Fitting of module & permeability determination, Dimension measurement of ceramic tubes. Operating the Extruder & Mixture machine. |
| | | | | |
| --- | --- | --- | --- | --- |
| Name | Status | Project Title | Joined On | Supervisor |
| Sarbasree Dutta | SRF | | May, 2017 | Dr. Nandini Das |
| Dulal Das | JRF | Development of layered SiC ceramic filter for off –gas cleaning (GAP0261) | May, 2018 | Dr. Nijhuma Kayal |
| Priyanka Roy | PhD student | | Sep, 2013 | Dr. Nandini Das |
| | |
| --- | --- |
| Name | Supervisor |
| Dr. Jugal Das | Dr. Nandini Das |
| Dr. Mitali Sen | Dr. Nandini Das |
| Dr. Biswajeet Bera | Dr. Nandini Das |
| Dr Sushmita Ghosh | Dr. Subrata Dasgupta |
| Dr. Debaleena Bhattacharjee | Dr. Subrata Dasgupta |
| Dr. Sanchita Baitalik | Dr. Nijhuma Kayal |
| Dr. Ankita Bose | Dr. Nandini Das |
| Dr. Marakkar Kutty P V Mailam Veedu | Dr. Subrata Dasgupta |
Dr. Subrata Dasgupta
Chief Scientist and Head
Phone: +91-(033) 2322 3454
Fax: +91-33-24730957
E-mail: sdasgupta@cgcri.res.in
Last Updated on September 24, 2020