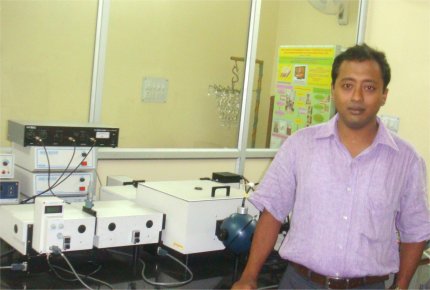 Dr. Kaushik Biswas
Principal Scientist (Optical & Bioactive Glass) & Leader
Specialty Glass Division
---
Contact Information:
Phone: +91-033-24733496 (Ex. 3351)
Fax: +91-033-24730957
E-mail: kbiswas@cgcri.res.in
Dr. Kaushik Biswas
Joined CSIR-CGCRI on 01.11.2007
Professional Career
| Institution | Position | Period |
| --- | --- | --- |
| CSIR-CGCRI, Kolkata | Principal Scientist | 2017-Present |
| CSIR-CGCRI, Kolkata | Senior Scientist | 2013-2017 |
| CSIR-CGCRI, Kolkata | Scientist | 2010-2013 |
| CSIR-CGCRI, Kolkata | Junior Scientist | 2007-2010 |
| IFW-Dresden, Germany | Guest Scientist | 2004-2007 |
Education
| Degree | Discipline | University; Year |
| --- | --- | --- |
| B.Sc. (Tech.) | Ceramic Technology | University of Calcutta |
| M.Tech. | Materials Science and Engineering | IIT Kharagpur |
| Ph.D. | | Technical University of Dresden, (Germany) |
Patents filed / Granted
Summary: 07 (filed)
India: 01
Foreign: 06 (USA, Germany, Malaysia, Indonesia, Turkey and China)
Research Interest
Thermal, optical and photoluminescence properties of rare earth doped glasses, Crystallization kinetics in Glasses, Oxyfluoride based transparent glass-ceramics, NIR/MIR emissions from low phonon non-conventional oxide glasses, Glasses to improve the efficiency of solar cell via up-conversion/down-conversion, Chalcogenide glasses, Bioactive glass and glass-ceramics
 Notable Research Contribution
Developed rare earth doped oxyfluoride glass-ceramics containing fluoride nano-crystals (BaF2, BaYF5) of low phonon energy
Studied crystallization kinetics of various oxide and metallic glasses
Studied the effect of melt convection on the solidification of peritectic alloys of industrial importance and utilized the effect of convection to tailor the microstructure and related properties
Selected Publications
Summary: In SCI Journals: 54; In Conference Proceedings: 20; In Books/Monographs: 01;
Selected papers :
Elucidating the effect of CaF2 on structure, biocompatibility and antibacterial properties of S53P4 glass, S. Prasad, Ganisetti, A. Jana,  S, Kanth, P. K. Sinha, S. Tripathy,  K. Illath, T. G. Ajithkumar,  K. Annapurna, A. R. Allu  and K. Biswas, J. Alloys Compd., 831 (2020) 154704
Structure and Stability of High CaO and P2O5 Containing Silicate and Borosilicate Bioactive Glasses, S. Prasad, A. Gaddam, A. Jana, S. Kant, P. K. Sinha, S. Tripathy, K. Annapurna, J. M. F. Ferreira, A. R. Allu, and K.Biswas, J. Phys. Chem. B, 123 (2019) 7558−7569
Effect of boron oxide addition on structural, thermal, in vitro bioactivity and antibacterial properties of bioactive glasses in the base S53P4 composition, Sakthi Prasad S, S. Datta, T. Adarsh, P. Diwan, K. Annapurna, B. Kundu, and K. Biswas, J. Non-Cryst. Solids, 498 (2018) 204-215.
Crystallization kinetics analysis of BaF2 and BaGdF5 nanocrystals precipitated from oxyfluoride glass systems: A comparative study, P. Karmakar, A. K. Subudhi, K. Biswas*, K. Annapurna, Thermochim. Acta, 610 (2015)1-9.
Role of Yb3+ ions on enhanced ~2.9 µm emission from Ho3+ ions in low phonon oxide glass system, S. Balaji, G. Gupta, K. Biswas, D.Ghosh, K. Annapurna, Scientific Reports, 6 (2016) 29203.
Editor, Transaction of Indian Institute of Metals (Springer), 2016-Present
INSA Medal for Young Scientist (2012)
CSIR Young Scientist Award in Engineering Sciences (2011)
Awarded First Prize for Best Young scientist of CGCRI for the year 2009-2010 (Institutional Award)
Best paper award on "Glass and Ceramics" published during the year 2009-2010 from CGCRI, Kolkata
Awarded sliver medal for being Post Graduate Topper in the Dept. of Materials Science and Engineering, IIT Kharagpur in 2003.
"Late J. Singh Memorial Cash Prize" for being the best student in the Dept. of Materials Science and Engineering, IIT Kharagpur in 2003.
May 2002-Feb 2003: DAAD-Fellowship German Academic Exchange Service.
Mr. Sakthi Prasad, AcSIR – Integrated dual Degree Ph D program,  is perusing  PhD work.
Mr. Anustup Chakraborty, AcSIR – Integrated dual Degree Ph D program, is pursuing M. Tech.
Last Updated on September 18, 2020