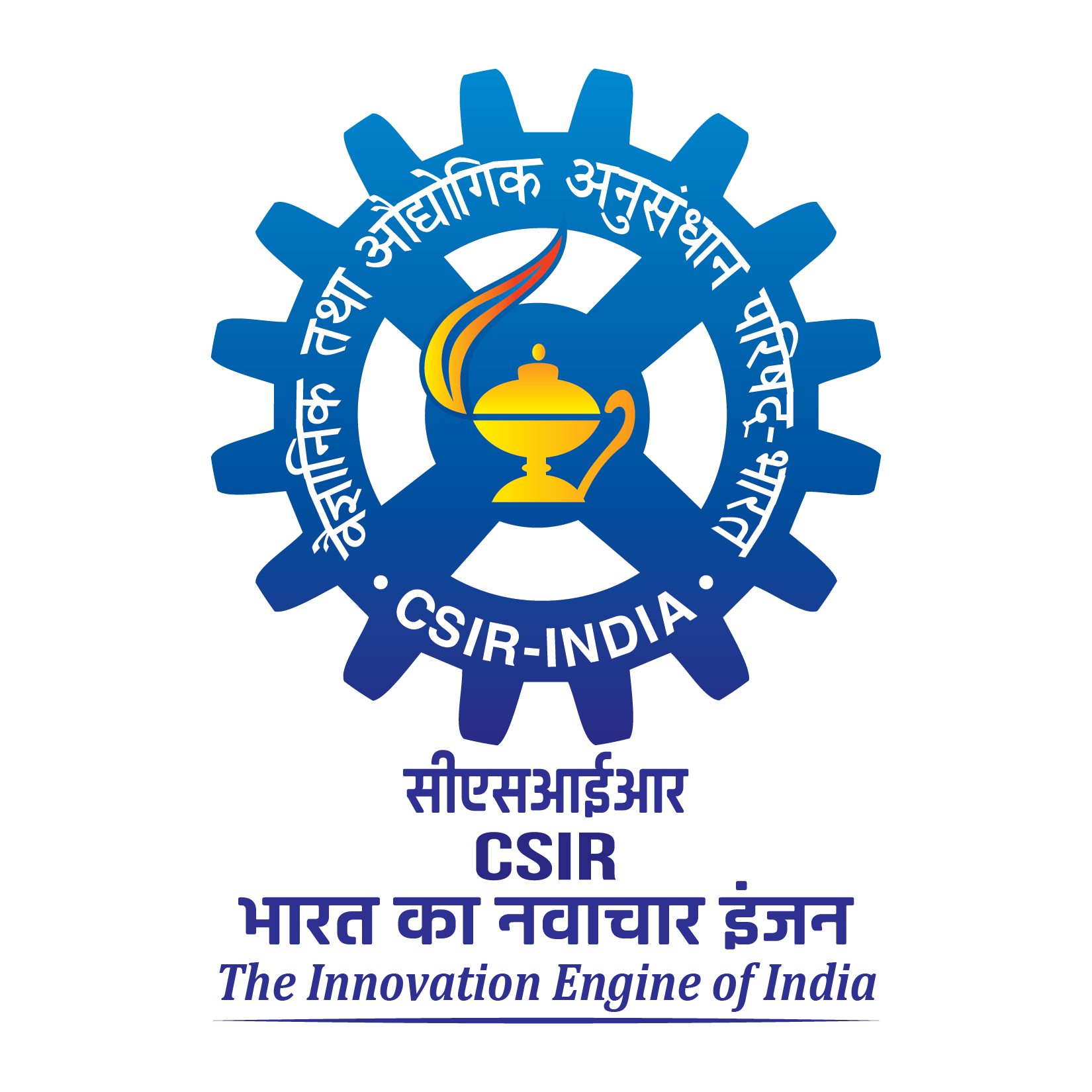 সিএসআইআর-কেন্দ্রীয় কাঁচ ও সেরামিক গবেষণা সংস্থা
सीएसआईआर-केंद्रीय काँच एवं सिरामिक अनुसंधान संस्थान
CSIR-Central Glass & Ceramic Research Institute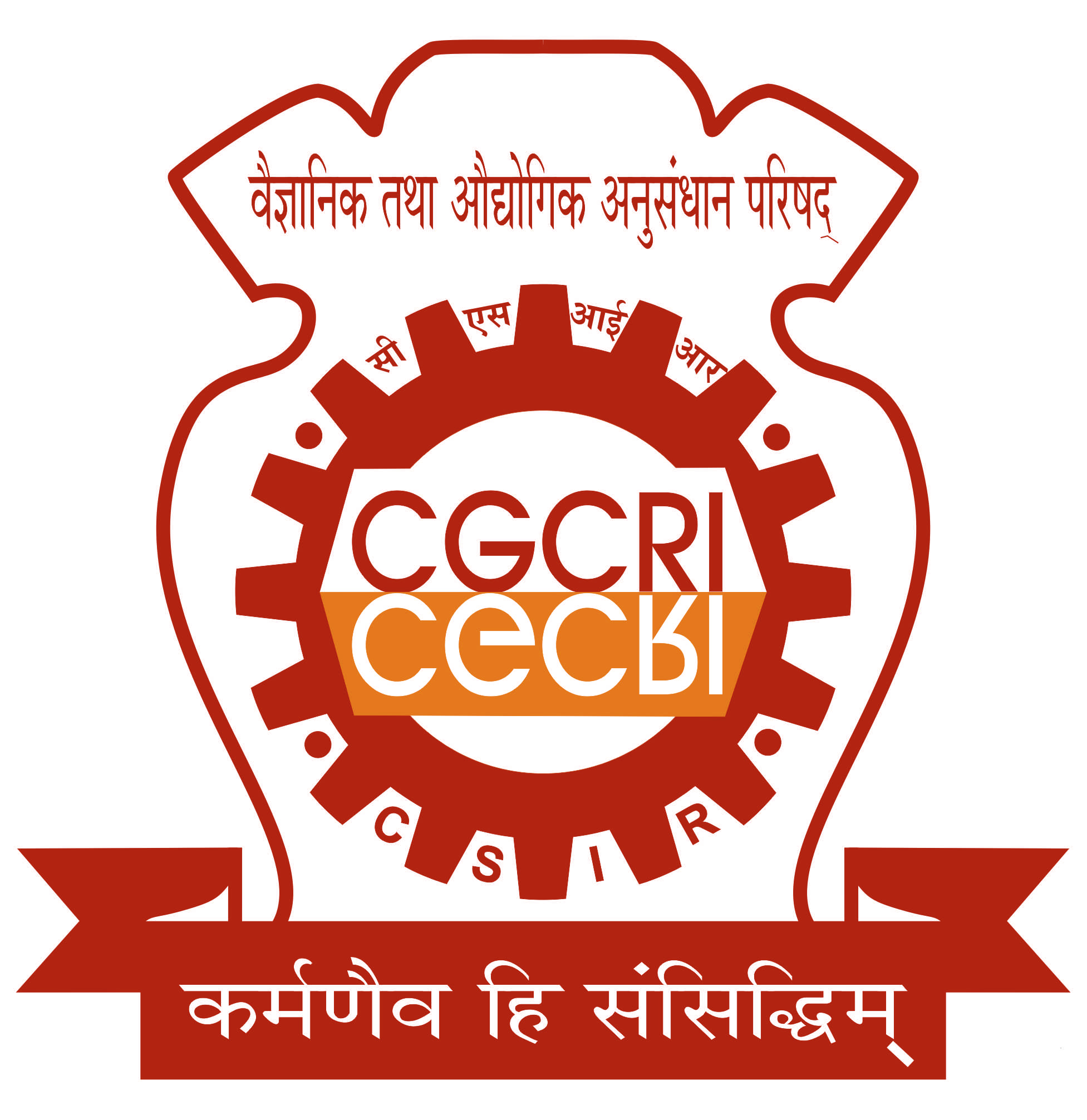 Refractory & Traditional Ceramics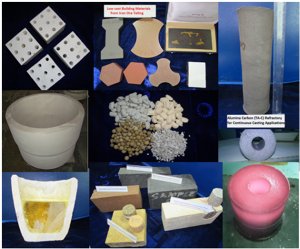 The Refractories Division is instrumental in the development of wide range of refractories for steel, cement, glass and other high temperature processing industries. Several refractory processes developed in the laboratory have been commercialized by the major refractory manufacturers of the country. The department has successfully executed many externally funded projects sponsored by corporate sectors, PSUs and various other government agencies.
The division is primarily engaged in the following activities.
Refractory raw material research
Refractory product development
Refractory testing
Human resource development in the area of refractory
Consultancy/technical services
The division is also engaged in the research activities on the gainful utilization of solid wastes generated by iron and steel and other processing industries.
Gainful utilisation of Indian refractory raw materials through structural modification(magnesite, bauxite, limestone, dolomite)
Synthetic refractory aggregates namely, spinel, high alumina from sillimanite beach sand, zirmul etc. through conventional / plasma processing
Carbon based refractory for steelmaking and functional applications
Cement and chemically bonded monolithic refractory
Refractory pot for corrosive glass melting (10 litre to 310 litre)
Refractory recycling
Utilisation of solid industrial waste (Iron & steel, mining, power plant etc.)
Technologies Developed & Transferred
High alumina brick from beach sand sillimanite (a) chemical bonding (b) ceramic bonding
Synthetic high alumina aggregate (54-86% Al2O3)
Low cement castable (45-90% Al2O3)
Sintered high Al2O3 products (97-99.5% Al2O3)
Rice husk ash nodules for heat insulation
High alumina cement free self flowing castable (70-95% Al2O3)
Mag-chrome aggregate from friable chrome ore
Rice husk ash insulating brick: (a) phosphate bonding, (b) chemical bonding
Wear resistant ceramics
Hydration resistant sintered lime and lime refractory products thereof.
Magnesia spinel refractory for cement rotary kiln.
Technology under Development
High alumina aggregates from bauxite of Indian origin
Plasma fused refractory materials
Vitrified ceramic tiles utilizing solid industrial wastes
Functional refractory from sintered alumina
LC castables for petrochemical and power plant application
Plastic refractory
Ongoing Projects
Sl. No.
Title of the Project
Duration
Source of Funding
Principal Investigator
Co-Investigator (s)
1.
Oxide non-oxide composite refractory for high temperature applications utilizing indigenous raw materials
2019-22
SERB
Dr. H. S. Tripathi
Dr. K. Dana, Mr. S. Sinhamahapatra, Mr. V. P. Reddy, Mrs. S. Bose
2.
Synthetic high alumina aggregate from sillimanite beach sand for refractory application
2018-20
CSIR
Dr. H. S. Tripathi

Mr. S. Sinhamahapatra, Dr. K. Dana, Mr. V. P. Reddy

 

3.
Superior fused magnesia from impure Indian magnesite for self sustenance
2018-20
CSIR
Dr. H. S. Tripathi
Dr. K. Dana, Mr. S. Sinhamahapatra, Mr. G. Debnath, Mr. S. Pasari, Mrs. S. Bose
Completed Projects
| | | | | | |
| --- | --- | --- | --- | --- | --- |
| Sl. No. | Title of the Project | Duration | Source of Funding | Principal Investigator | Co-Investigator (s) |
| 1 | Characterisation of high carbon ferro chrome slag waste to find out its suitability for refractory applications. | 2018 | Private industry | Dr. H. S. Tripathi | Dr. K. Dana, Mr. S. Sinhamahapatra |
| 2 | Superior refractory for induction furnace to enable refining of steel | 2017-18 | CSIR | Dr. H. S. Tripathi | Dr. A. Ghosh, Dr. S. Chakraborty, Dr. K. Dana, Mr. S. Sinhamahapatra |
| 3 | Development of High Alumina Castable for OPC industry  with better Alkali Corrosion resistance ; spalling and abrasion resistance  | 2017-18 | Private industry | Dr. H. S. Tripathi | Dr. K. Dana, Mr. S. Sinhamahapatra, Mr. V. P. Reddy |
| 4 | Development of cost effective refractory lining materials for induction melting furnace suitable for production of quality steel | 2016-18 | Govt. Agency | Dr. H. S. Tripathi | Dr. A. Ghosh, Dr. S. Chakraborty, Mr. V. P. Reddy |
| 5 | Technology development for the production of speciality refractories through value addition to the indigenously available raw materials | 2012-17 | CSIR | Dr. A. Ghosh, Dr. H. S. Tripathi, Dr. M. K. Haldar | Mr. S. Sinhamahapatra, Dr. A.l Maldhure, Dr. K. Dana, Mr. S. Gupta, Dr. S. K. Das |
| 6 | Development of refractory aggregates through plasma processing of indigenous refractory raw materials | 2012-17 | CSIR | Dr. M. K. Haldar, Mr. S. Sinhamahapatra | Dr. A. Ghosh |
| 7 | Development of fire-resistant coating on structural element | 2012-17 | CSIR | Dr. K. Dana | Mr. S. Sinhamahapatra |
| 8 | Novel reactive precursors for glass and ceramics | 2012-17 | CSIR | Dr. K. Dana | Dr. H. S. Tripathi |
| 9 | Technological intervention and training of artisans in terracotta sector of West Bengal | 2016-17 | CSIR | Mr. S. Sinhamahapatra | Dr. H. S. Tripathi, Dr. K. Dana,  Mr. S. Pasari, Mr. S. Roy |
| 10 | Technological intervention of terracotta sector in Bankura/ South 24 Parganas district of West Bengal | 2016 | CSIR | Mr. S. Sinhamahapatra | Dr. K. Dana, Mr. S. Gupta, Mr. S. Ghosh, Mr. S. Pasari, Mr. S. Roy |
| 11 | Granular porous ceramic material with engineered pore pattern. | 2015-16 | Private industry | Dr. K. Dana | Mr. S. Sinhamahapatra, Dr. H. S. Tripathi, Dr. A. Ghosh |
| 12 | Refractory castable for CFBC boiler | 2015-16 | Public Sector | Dr. H. S. Tripathi | Dr. A. Ghosh, Mr. S. Sinhamahapatra, Dr. A. Maldhure, Mr. S. Pasari |
| 13 | Role of Tabular Alumina in resin bonded alumina-carbon continuous casting refractories | 2014-16 | Private Industry | Dr. A. Ghosh | Dr. H. S. Tripathi Dr. A. Maldhure, Dr. K. Dana |
| 14 | Development of value added high alumina refractory products from Indian bauxite | 2013-15 | Private Industry | Dr. H. S. Tripathi | Mr. S. Sinhamahapatra, Dr. A. Ghosh, Dr. S. K. Das, Mr. V. P. Reddy |
| 15 | High alumina aggregates from sillimanite beach sand and its application in refractory castables | 2013-15 | Private Industry | Dr. H. S. Tripathi | Dr. S. K. Das, Mr. G. Debnath, Mr. V. P. Reddy |
| 16 | Characterization of Indian lean grade magnesia ore and improvement of its high temperature refractory properties with and without beneficiation | 2012-15 | Govt. Agency | Dr. M. K. Haldar | Dr. A. Ghosh, Dr. H. S. Tripathi |
| 17 | Development of cored refractory shapes for air heater | 2014-15 | Govt. Agency | Mr. S. Sinhamahapatra | Dr. A. Ghosh, Dr. H. S. Tripathi, Dr. K. Dana, Dr. P. K. Das |
| 18 | Development of aluminosilicate refractory products utilising insulator waste | 2014-15 | Private Industry | Dr. H. S. Tripathi | Dr. A. Ghosh, Mr. S. Sinhamahapatra |
| 19 | Improvement of MgO-C brick quality to enhance the converter life | 2010-14 | Public Sector | Dr. A. Ghosh | Dr. S.K. Das, Dr. M.K. Haldar, Dr. H.S. Tripathi |
| 20 | Development of newer refractory crucible for melting of corrosive glasses | 2010-14 | Govt. Agency | Dr. S.K. Das | Mr. S. Gupta |
| 21 | Development of value added ceramic products utilising solid waste generated at VSP | 2011-13 | Public Sector | Dr. S. K. Das | Dr. A. Ghosh, Dr. H. S. Tripathi, Dr. M. K. Haldar |
| 22 | Development of Corrosion Resistant Glass Contact Al2O3-Cr2O3 | 2009-13 | Govt. Agency | Dr. H.S. Tripathi | Dr. A. Ghosh |
| 23 | Development of value added Refractory of Aggregate from Indian bauxite of TRL | 2010-12 | Private Industry | Dr. A. Ghosh | Dr. S.K. Das, Dr. H. Tripathi, Dr. M. K. Haldar |
| 24 | Upscaling of hydration resistant lime aggregate & lime refractories thereof | 2008-12 | Collaborative programme with Industry | Dr. A. Ghosh | Dr. S.K. Das, Dr. M. K. Haldar, Dr. H. S. Tripathi |
| 25 | Al2O3-MgAl2O4 refractory with & without carbon | 2007-10 | Govt. Agency | Dr. A. Ghosh | Dr. H.S. Tripathi |
| 26 | Vitrified ceramic tiles utilizing sand stone dust of stone processing industries | 2009-10 | Private Industry | Dr. S. K. Das | Dr. M. K. Haldar, Mr. P.K. Mondal, Mr. S. Gupta, Mr. N. Singh, Mr. S. Dasgupta |
| 27 | Utilisation of iron ore tailings in making low cost building materials | 2008-09 | Private Industry | Dr. S.K. Das | Mr. N. Singh, Mr. P. K. Mondal, Mr. S. Gupta, Mr. A. Mondal, Dr. J. Ghosh |
| 28 | Development of value added refractory products from Indian Bauxite | 2005-08 | Govt. Agency | Dr. H.S. Maiti | Dr. A. Ghosh, Dr. B. Mukherjee, Dr. M. K. Haldar, Dr. H. S. Tripathi |
| 29 | Technology development to manufacture Vitrified Ceramic Tiles utilizing EAF slag | 2007-08 | Private Industry | Dr. S. K. Das | Dr. R. Sarkar, Mr. N. Singh |
| 30 | Plasma processing of industrially important high temperature aggregates | 2003-07 | Govt. Agency | Dr. B. Mukherjee | Dr. A. Ghosh, Dr. R. Sarkar, Dr. H.S.Tripathi |
| 31 | Evaluation of High Alumina Ore and Development of Stable refractory aggregates therefrom | 2004-05 | Govt. Agency | Dr. M.K. Haldar | Dr. A. Ghosh, Dr. B. Mukherjee |
| 32 | Development of magnesium aluminate and Mg-chrome spinel aggregates | 2000-04 | Govt. Agency | Dr. A. Ghosh | Dr. Samir Das, Dr. M.K. Haldar, Dr. H.S. Tripathi |
| 33 | Development of castable based refractory pot | 2000-03 | Govt. Agency | Dr. A.C. Das | Dr. M. K. Haldar, Mr. P. Choudhury |
| 34 | Development of high temperature ceramic filter for molten metal filtration | 1999-2003 | In-House | Dr. S.K. Das | Mr. P.K. Mondal |
| 35 | Development of new generation refractory castables | 1998-2002 | in-house | Dr. S.K. Das | Mr. P. K. Mondal, Dr. R. Sarkar |
| 36 | Characterisation of low grade aluminous ore and development of mullite aggregates and refractories | 2000-2001 | Govt. Agency | Dr. B. Mukherjee | Dr. H.S. Tripathi, Dr. A. Ghosh |
| 37 | Development of magnesium aluminate spinel aggregates | 1997-1999 | Overseas Industry | Dr. Samir Das | Dr. A. Ghosh,Dr. H.S. Tripathi, Dr. G. Banerjee |
| 38 | Development of high density hydration resistant lime sinter and lime refractories for application in steel and cerament industries | 1996-1999 | Govt. Agency | Dr. G. Banerjee | Dr. Samir Das, Dr. Arup Ghosh |
| 39 | Development of Mag-chrome aggregates | 1996-1998 | Private Industry | Dr. G. Banerjee | Dr. Samir Das, Dr. M.K. Haldar, Dr. A. Ghosh |
| 40 | Development of technology for critical components in Iron & Steel industry from zirconia powder | 1992-1996 | Govt. Agency | Dr. G. Banerjee | Dr. B. Mukherjee, Dr. M.K. Haldar |
| 41 | Development of magnesite refractories with an inorganic binder | 1995-1996 | Overseas Industry | Dr. Samir Das | Dr. A. Ghosh, Dr. G. Banerjee |
| 42 | Development of synthetic mullite and zirco-mullite aggregates from beach sand sillamanite and zircon | 1994-1995 | Private Industry | Dr. G. Banerjee | Dr. A. Ghosh, Dr. B. Mukherjee, Dr. Samir Das, Dr. H.S. Tripathi |
| 43 | Development of high density dolomite sinter and dolomite refractories | 1990-1993 | Private Industry | Dr. Samir Das | Dr. A. Ghosh, Dr. G. Banerjee |
Processing equipments

Attrition mill
Rapid planetary mill
Tube mill
Planetary mixer
Eirich mixer
Hydraulic presses (upto 200 Ton)
Cold isostatic press
Roll Briquetting machine
Vibration table for castable
High temperatures furnaces (upto 1800oC)
Control atmosphere furnace (upto 2200oC)
Automatic grinding & polishing machine

Characterisation facilities

Abrasion resistance tester
Hot MOR testing machine
CCS, MOR testing machine
Thermal conductivity (Copper calorimeter)
PCE, RUL tester
Slag corrosion tester
High temperature dilatometer
High temperature TG-DTA/ DSC
Optical microscope
Thermomechanical Analyzer (1550oC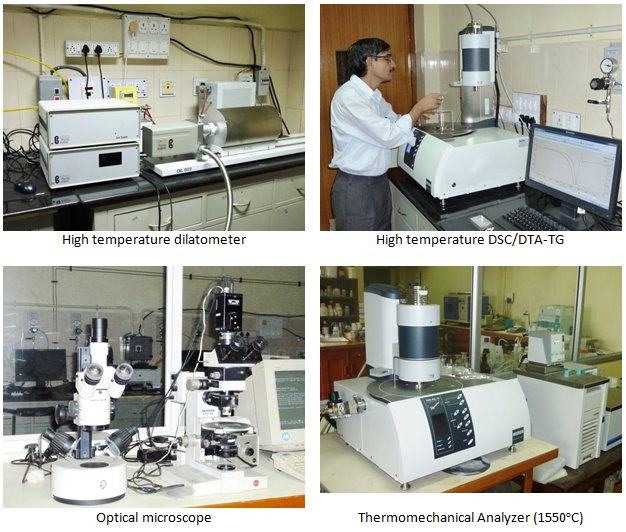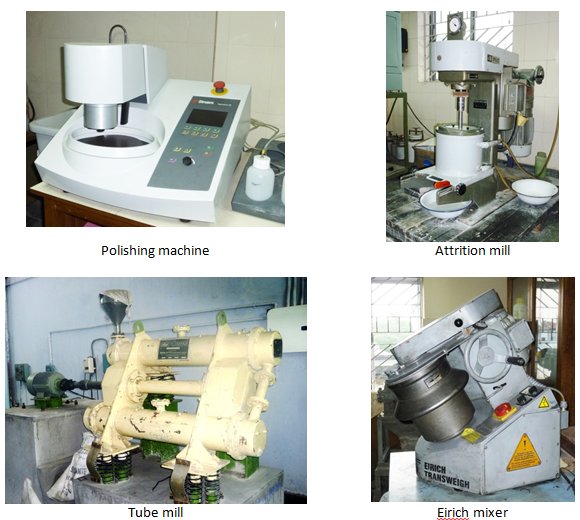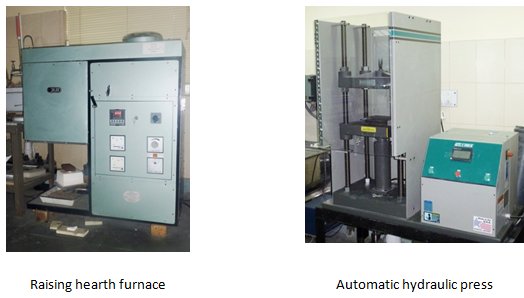 | | | |
| --- | --- | --- |
| Name | Designation | Expertise |
| Gopal Debnath | Senior Technical Officer(1) | Refractory Testing |
| V. P. Reddy | Senior Technical Officer(1) | Refractory Processing & Testing |
| Rajesh Kumar Bahinipati | Technical Officer | Refractory Testing |
| Satyajit Pasari | Technical Officer | Refractory Processing & Testing |
| Souma Bose (Das) | Technician (2) | Refractory Testing |
| | | | |
| --- | --- | --- | --- |
| NAME | DESIGNATION | AREA OF RESEARCH | SUPERVISOR |
| Dr. Madhuchhanda Sarkar | DST-Women Scientist (WOS-B) | Silicate based inorganic paints for masonry and mud wall | Dr. Kausik Dana |
| Ms. Chandrima Ghosh | CSIR-SRF | Synthesis and Characterization of Magnesia Based Refractory Aggregates from Indian Magnesite for the Improvement of its High Temperature Properties | Dr. H. S. Tripathi |
| Ms. Aheli Ghatak | Project Assistant- II | Synthetic high alumina aggregate from sillimanite beach sand for refractory application | Dr. H. S. Tripathi |
| Ms. Pallabi Mukherjee | Project Assistant- II | Superior fused magnesia from impure Indian magnesite for self sustenance | Dr. H. S. Tripathi |
| Mr. Pintu Kumar | Project Assistant- II | Superior fused magnesia from impure Indian magnesite for self sustenance | Dr. H. S. Tripathi |
Last Updated on March 1, 2023