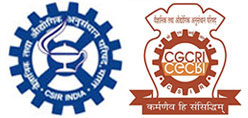 সিএসআইআর-কেন্দ্রীয় কাঁচ ও সেরামিক গবেষণা সংস্থা
सीएसआईआर-केंद्रीय काँच एवं सिरामिक अनुसंधान संस्थान
CSIR-Central Glass & Ceramic Research Institute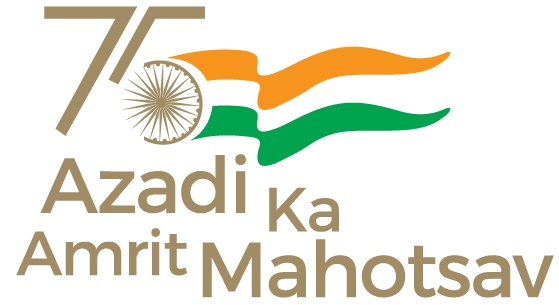 Advanced Ceramics & Composites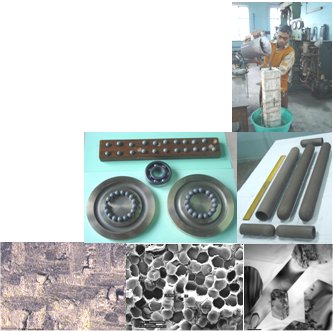 CGCRI is the pioneer in research on non-oxide ceramics in India and has the cutting edge in this field. The materials dealt with are silicon nitride, SiAlONs, AlON, aluminum nitride, silicon carbide and composites with carbon fiber and CNT having an aim to use the materials in low and high temperature structural applications. The products developed are dense silicon nitride ball for hybrid bearing and other wear resistant components, aluminum nitride as impact resistant material, AlON for visible and IR transparent windows, reaction bonded silicon nitride porous tube for acid electrolysis, hexagonal boron nitride powder for high temperature lubrication. Present work includes both basic research and product development on multi-layer composite, carbon fiber reinforced wear resistant auto clutch component, hard SiAlON cutting tools, bio-mimetic silicon carbide high temperature filter. The division also possesses equipment for room temperature and high temperature mechanical property evaluation at macro- to micro-levels. Correlation of material-microstructure-property is the other area of research of the division.
Reaction bonded silicon nitride
Reaction bonded silicon carbide
Dense silicon nitride
Carbon fibre reinforced silicon carbide
CNT reinforced structural ceramic composites
Porous Silicon Carbide Ceramics and Composites
Biomorphic Silicon Carbide Ceramic Composites
High temperature gas filtration
Mechanical behaviour at very high strain rate
Ultra high temperature ceramics
Dense silicon nitride and sialon wear resistant components
Reaction bonded silicon nitride components
Hexagonal boron nitride powder
Dense reaction bonded silicon carbide composite materials (covered by : Indian Patent, 226270, 16 December, 2008)
Carbon fibre reinforced silicon carbide components
Biomorphic SiC ceramic composite materials
Porous SiC ceramics
SiSiC ceramic composite using processed bio-precursors
Ongoing Projects
Sl. No.
Title of the Project
Duration
Source of Funding
Principal Investigator
Co-Investigator (s)
1
Cleaning of hot gas from high ash containing low grade Indian Coal
2012-17
CSIR
Nijhuma Kayal
O.P. Chakrabarti
2
Synthesis of oxide bonded porous SiC ceramics by bond phase precursor infiltration technique
2013-16
DST
Nijhuma Kayal
O.P. Chakrabarti
3
Hot pressing and study of thermo-mechanical behaviour of UHTC samples for aerospace applications
2013-15
DRDO
S. Chakraborty
P. K. Das
4
Development and characterization of Silicon Carbide foam
2014-16
DRDO
S. Sarkar
P. K. Das
S. Chakraborty
5
Non oxide ultra high temperature ceramic components
2012-17
CSIR
P. K. Das
S. Chakraborty
6
M-AlON based IR transparent window
2012-17
CSIR
S Bondopadhyay
Completed Projects
| | | | | | |
| --- | --- | --- | --- | --- | --- |
| Sl. No. | Title of the Project | Duration | Source of Funding | Principal Investigator | Co-Investigator (s) |
| 1 | Porous RBSN diaphragm tube | 2006-10 | Govt. | P.K. Das | J. Rakshit |
| 2 | RBSN microwave transparent material | 2009-10 | Govt | P.K. Das | J. Rakshit |
| 3 | C-fibre reinforced clutch component | 2008-11 | CSIR | P.K. Das | D.K. Bhattacharya |
| 4 | RBSN leading edge for very high temperature application | 2010-11 | Govt. | P.K. Das | R. Banerjee |
| 5 | Equation of State of Alumina and ZTA ceramics under shock loading | 2007-10 | Govt. | A. K. Mukhopadhyay | Dr. S. K. Biswas |
| 6 | Development of cellular SiC ceramics using biologically derived perform | 2002-2007 | CSIR | O.P.Chakrabarti | — |
| 7 | Cellular SiC ceramics from plant precursor for engineering applications, | 2005-2008 | DST, Govt. of India | O.P.Chakrabarti | H.S.Maiti & R.Majumder |
| 8 | Synthesis of novel composite materials using coir fibre for engineering applications | 2010-13 | CSIR | O.P.Chakrabarti | |
| 9 | Development of porous SiC substrate for hot gas filter applications | 2007-12 | CSIR | O.P.Chakrabarti | N.Kayal, T.Goswami & P.G.Rao |
| 10 | Fabrication Si3N4 ball for hybrid ball bearing | 2010-12 | Govt. | P.K. Das | R. Banerjee |
| 11 | Fabrication of SiC large plates from organic precursors | 2011-12 | Govt. | P.K. Das | R. Banerjee |
High Pressure Abrasive Waterjet Machine for Hard Ceramic Cutting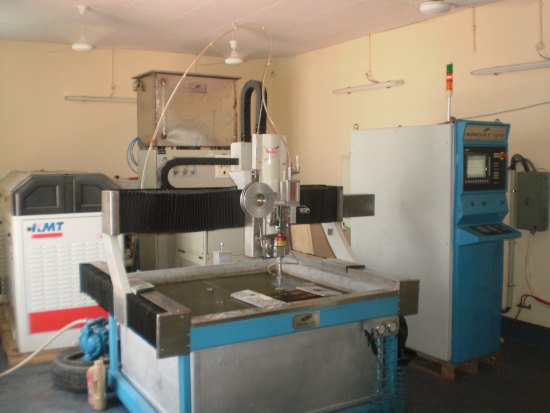 CGCRI, Kolkata procured a very high pressure waterjet cutting machine that operates at a maximum pressure of 6200bar. The high pressure water-abrasive mixture is ideal for cutting very hard ceramics, composites and glass products. The machine is installed for the first time in the eastern region and such a high pressure machine is the first of its kind in India. The machine will be utilized in many in-house projects and for outside agencies in future.

FTIR


Sputter Coating unit


Vacuum Oven for inflammable Solvent


Thermal Diffusivity measuring instrument


Spark Plasma Sintering Furnace


Hot Isostatic Press


High Temperature (2000oC) Brazing Furnace with Tungsten Heating Element


SCHAUBLIN, 225 TMI-CNC turning machine


VF-1 HASS VMC (Vertical Milling Machine)


Zeta Sizer


Particle Size Analyzer


1500 W Ultrasonic Unit


Rheometer


Attritor


UV Spectrometre


Non Contact Profilometre


Flurimetre


Inverted Optical Microscope with CCD camera with Image Analyzer


Humidity controlled drier


High temperature controlled atmosphere furnaces (2000OC)


High speed Centrifuge of M/S Remi(Max RPM=20000, RCF 37570) 4×100 ml angle head


Planetary mill (1600 watt)


Hi temperature electrically heated furnace of chamber size 200mm×200mm×200mm max temp 1800oC


100 Watts Ultrasonic processor


Ceramic ball lapping machine


Micro hardness tester (2 kg)


Contact type surface profilometer


High temperature Hot Press (2200C, 40 Ton)


Precision Surface Grinding Machine


Triboindenter (Nanoindenter with in-situ SPM facility)


Fischerscope (Nanoindenter with Optical facility)


Scratch Tester


Hardness Tester (Vicker''s and Knoop tip)


Fully Automated Universal Testing Machine (1 KN, 100 KN, 100 N load cells)
| | | |
| --- | --- | --- |
| Name | Designation | Expertise |
| Dr. Rajat Banerjee | Principal Technical Officer | Fracture of Glass, Computational analysis |
| Dr. Soumya Sarkar | Senior Technical Officer(3) | |
| Sumit Guha | Senior Technical Officer(3) | |
| Sandip Chakraborty | Senior Technical Officer(2) | Glass & Ceramic Characterization |
| Sumantra Basu | Senior Technical Officer(1) | Instrumentation |
| Pranab Pal | Technical Officer | Ceramic Machining and NDT |
| Ramprasad Mondal | Technical Officer | Ceramic Machining and NDT |
| Prasanjit Mandal | Senior Technician (2) | |
| Chhoton Kerketta | Senior Technician (2) | |
| Sanjiban Das | Technician (2) | |
| Subhendu B. Mondal | Technician (2) | Instrumentation |
| Naresh Kumar Oraon | Technician (2) | Ceramic finishing |
| Subhankar Bera | Technician (1) | Furnace Operation |
| Samir Kumar Kopai | Technician (1) | |
Dr. Dipayan Sanyal
Chief Scientist & Mentor
Phone: (033) 23223315)
Fax: +91-33-24730957
Mobile : 9432012330
E-mail: dsanyal@cgcri.res.in
Last Updated on September 8, 2022