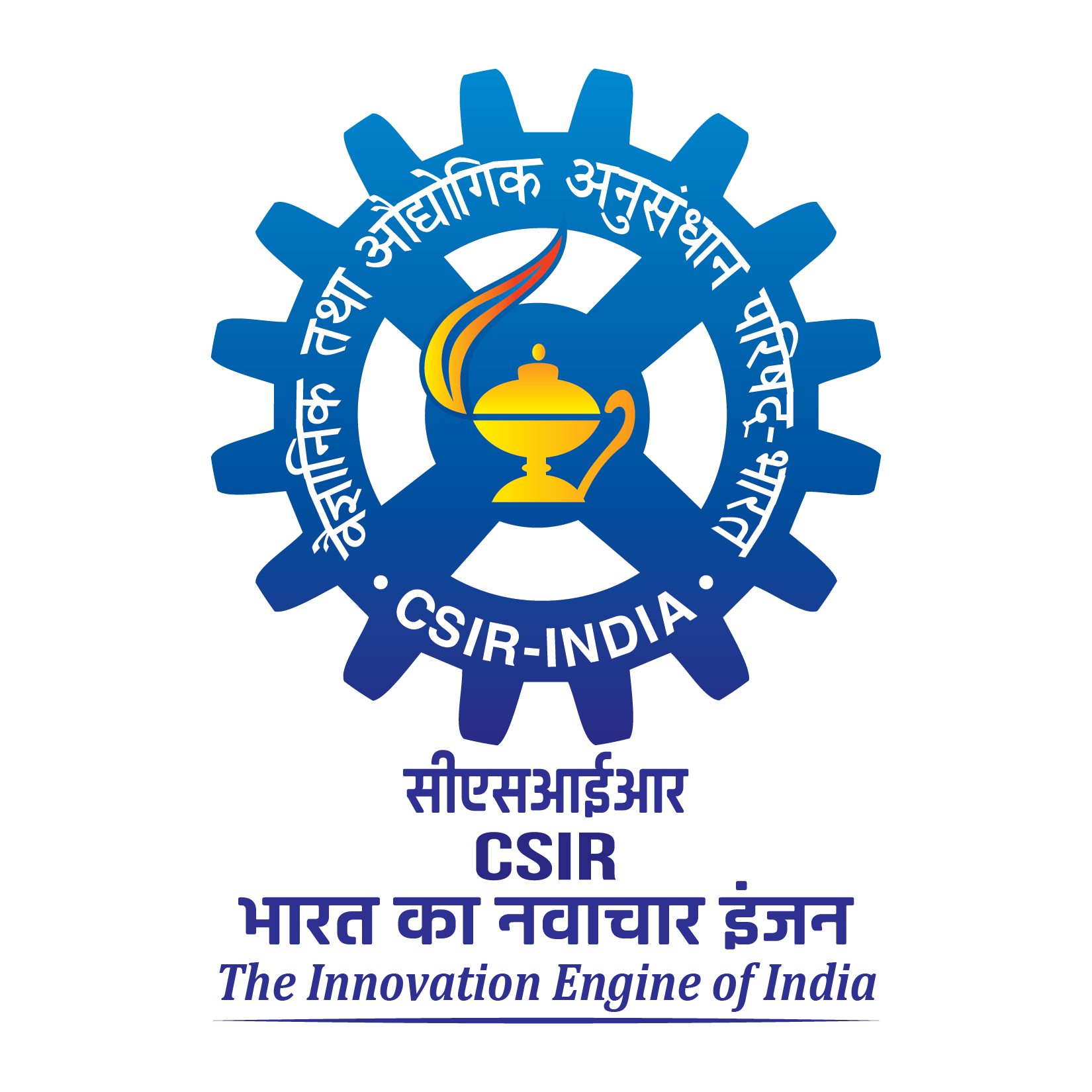 সিএসআইআর-কেন্দ্রীয় কাঁচ ও সেরামিক গবেষণা সংস্থা
सीएसआईआर-केंद्रीय काँच एवं सिरामिक अनुसंधान संस्थान
CSIR-Central Glass & Ceramic Research Institute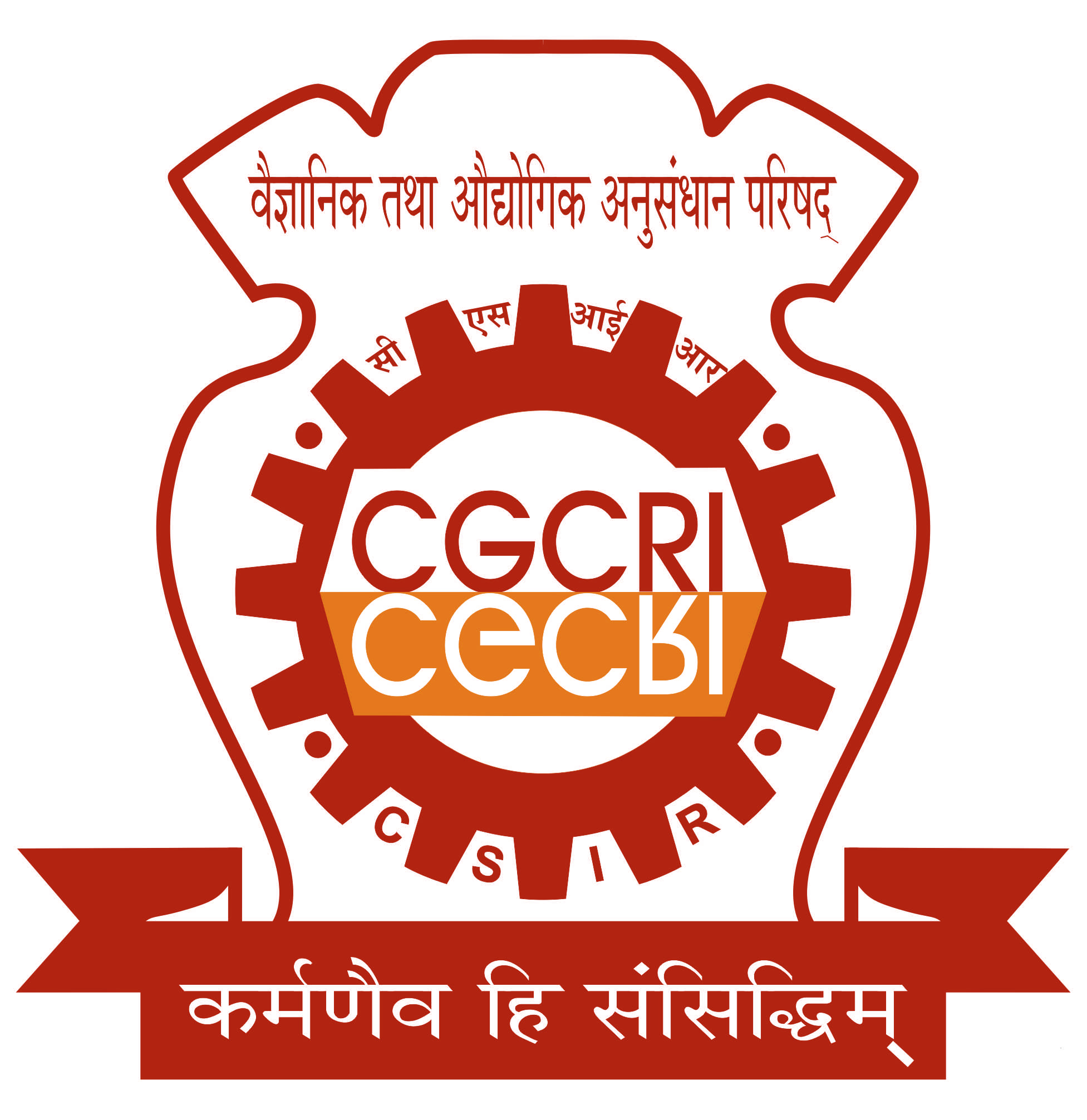 Advanced Ceramics & Composites
Advanced Ceramics and Composites Division (ACCD) caters to develop technology oriented high quality research in the broad arena of advanced materials for high temperature applications. The on-going technology development and research efforts stem from a strong collaboration with the strategic agencies of the country, like DRDO, RCI, ISRO, DAE and many more. Typically, this division deals with the development of advanced ceramics and composites like silicon carbide, silicon nitride, silicon and aluminum oxy nitride, ceramic matrix composite, MAX phase ceramics, aluminum nitride, boron nitride and carbide ceramics, high entropy carbide and nitride ceramics, CNT, graphene and carbon fiber reinforced ceramic composite, MXene etc. ACCD also ventures in energy related materials based on advanced ceramics thin films, 2D nanosheets enabled composite for white light emissions, high temperature piezo-sensors, semiconducting and hydrogen storage materials etc. The division is equipped with processing bulk ceramic materials through traditional slip casting to advanced 3D-printing and micromachining, expertise ranging from conventional hard and brittle ceramic machining to laser assisted ductile mode machining for fabricating engineering components. Divisional facilities largely encompass controlled atmosphere processing of ceramics to characterizing mechanical behavior of both bulk and thin film ceramics and composites from room to high temperature, structure-property correlations of the materials. ACCD also has expertise for the development of functional porous nanomaterials for catalytic and separation (gas/liquid) based applications along with the utilization of agro- and industrial wastes for water decontamination and other value added products. Division also initiates activities like computational material design and assessment of material behavior. Some of the milestone products/technologies developed at the division are reaction bonded silicon carbide and nitride, C-fiber reinforced silicon matrix composite brake disk and jet-ven, coating from pre-ceramic polymer for white light, porous silicon nitride tube for hot gas filtration, SiAlON based cutting tools, hexagonal boron nitride powder, biomorphic SiC ceramic composite materials, silicon nitride ball-bearing, zeolite based membrane for gas and liquid separation.  Currently, the division has a strength of seven scientists, seven technical officers, and four technicians.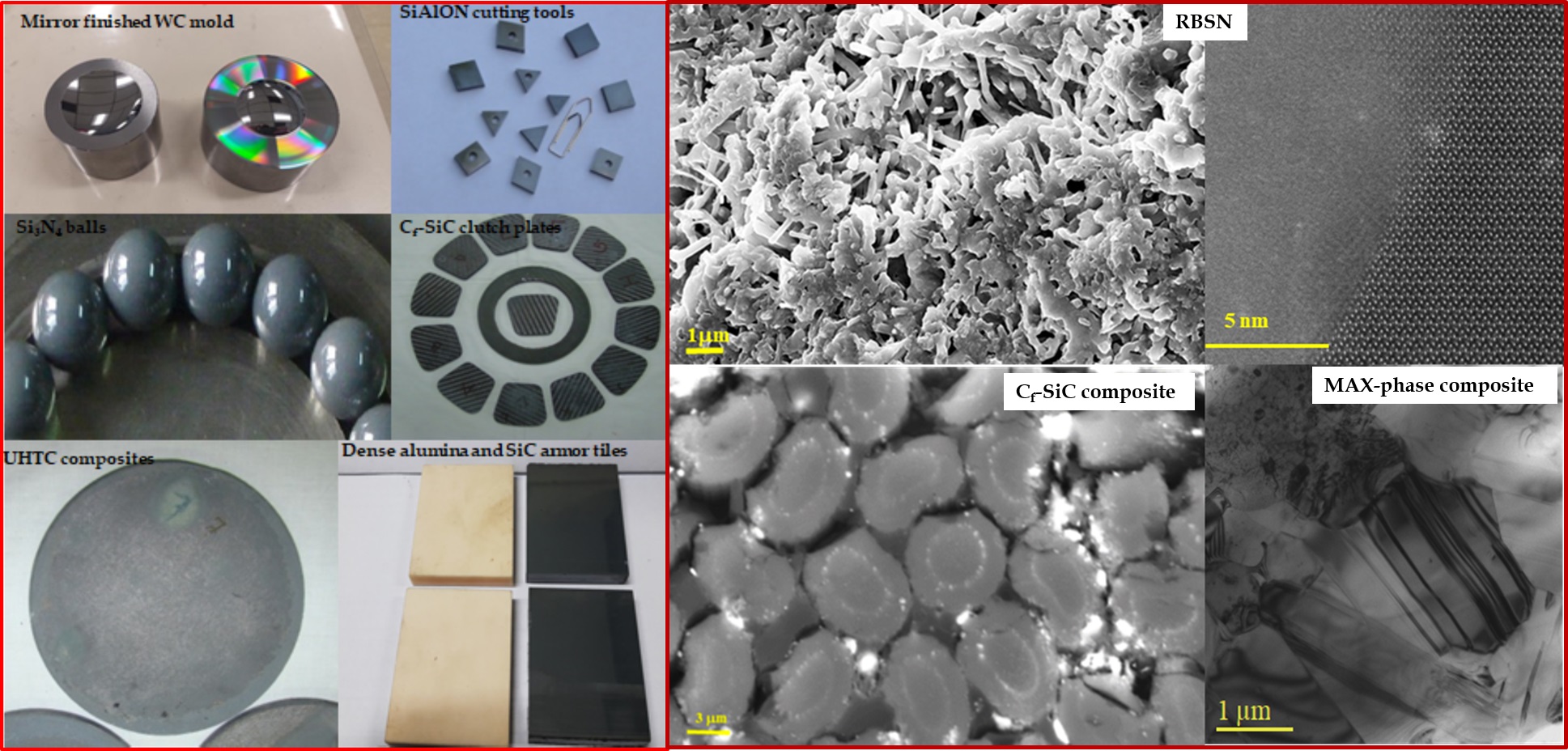 Processing of advanced ceramic and composite materials: Processing activities include processing of super hard ceramic using both conventional (slip casting, powder shaping and sintering) and non-conventional (additive manufacturing) of SiC, Si3N4, B4C, TiC, SiAlON and AlON ceramics, UHTC composites, MAX phase ceramics, Cf-SiC, Grpahene-metal & ceramic composites, ceramic matrix composites (CMCs), AlN and high entropy ceramics for strategic, structural and energy applications. Processing of ceramic thin films and coating from pre-ceramic precursor using CVD methods, like SiC, SiOxCy and coating for cutting tool applications are also one of the key focus areas of the advanced ceramics and composite divisions. Processing of nanomaterial synthesis by sol-gel based wet-chemical methods for waste water treatment and catalytic application is another activity of ACCD. Utilization of agro- and industrial wastes toward value added products is the new activity of the division. Divisions also try to build up expertise in the area of computational material design.
Advanced machining: Division also engages in fabrication of components from brittle and hard materials made by advanced machining facilities like abrasive water jet machining, precision grinding and polishing, CNC machining lathe, vertical milling machine, laser assisted ductile mode machining, and, near-net-shaping of precision optics glass lenses.
Characterizations: ACCD further looks into characterization of mechanical behavior, structural, thermal, opto-electronic behavior of materials along with development of structure-property correlation. Typical examples are mechanical behavior of materials from room to high temperature using universal testing machine, micro to nanohardness, high temperature nanoindentation, oxidation studies, wear and friction behavior at ambient and controlled environment with temperature dependence study, spectroscopy studies and microstructural characterization.
Dense silicon nitride and sialon wear resistant components
Reaction bonded silicon nitride components
Hexagonal boron nitride powder
Dense reaction bonded silicon carbide composite materials (covered by : Indian Patent, 226270, 16 December, 2008)
Carbon fibre reinforced silicon carbide components
Biomorphic SiC ceramic composite materials
Porous SiC ceramics
SiSiC ceramic composite using processed bio-precursors
Ongoing Projects
| | | | | | | |
| --- | --- | --- | --- | --- | --- | --- |
| Sl. No | Title of the project | Duration | SponsoringAgency | Principal Investigator | Co-Principal Investigator(s) | Budget (lakhs) |
| 1 | Technology Development on Fabrication of RBSN EM Window for Strategic Applications | 20 Sept, 2022 – 9 Sept, 2024 (2 years | CSIR (FTT) | Mr. Ajitesh Kar | Dr. Milan Kanti Naskar | 185 |
| 2 | Development of Cf/SiC ceramic matrix composites (CMCs) for Aircraft Brake Disc Applications | 02.02.2022 to 31.03.2025 (3 years) | CSIR (Mission Mode) | Mr. S.Gangadharan | Mrs. Soma Hansda | 180.68 |
| 3 | High Entropy Alloy for Hydrogen Storage Applications at Room Temperature (HEART) | April 2022-September2024 (2 years) | CSIR (H2T mission mode) | Dr. Soupitak Pal | Dr. N.C. Pramanick, Dr. Sandip Bysakh. | 60 |
| 4 | Advanced Manufacturing of Nanofinished Ceramics and Hard Alloy Components by Laser Assisted Ductile Mode Machining | 17.02.2020 to 31.03.2023 (3 years) | CSIR 4M | Mr. S.Gangadharan | Dr.Yuvaraj Natarajan | 50 |
| 5 | Development of Hot Iso-statically pressed Silicon Nitride Ball: Technology for Hybrid Bearings of Aircraft Application" | 2 years (2022 – 2024) | CVRDE, DRDO | Dr. Rajat Banerjee | Mr. Ajitesh Kar | 39 |
| 6 | Functionalization of Red Mud for Simultaneous Remediation of Fluoride, Arsenic and Iron Contaminants from Water and Utilization of Waste Sludge Therefrom in the Development of Glass-Ceramic Foam | 30 Dec 2020-29 Dec 2023 (3 years) | SERB | Dr. Milan Kanti Naskar | Dr. Shirshendu Chakraborty | 34.14 |
| 7 | Fabrication of high temperature Piezo Pressure Sensor for Aeronautical Application | 3 years (2023 – 2025) | ARDB, DRDO | Dr. Rajat Banerjee | Mr. Ajitesh Kar | 32 |
High Pressure Abrasive Waterjet Machine for Hard Ceramic Cutting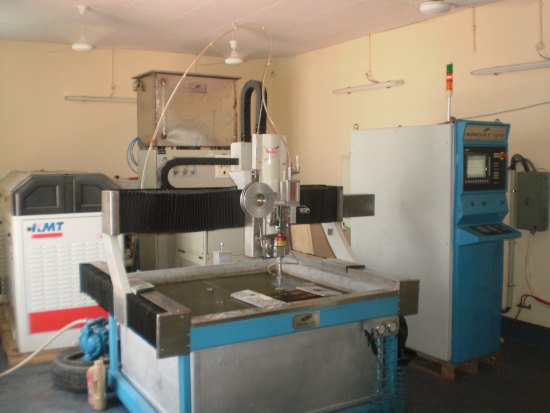 CGCRI, Kolkata procured a very high pressure waterjet cutting machine that operates at a maximum pressure of 6200bar. The high pressure water-abrasive mixture is ideal for cutting very hard ceramics, composites and glass products. The machine is installed for the first time in the eastern region and such a high pressure machine is the first of its kind in India. The machine will be utilized in many in-house projects and for outside agencies in future.

FTIR


Sputter Coating unit


Vacuum Oven for inflammable Solvent


Thermal Diffusivity measuring instrument


Spark Plasma Sintering Furnace


Hot Isostatic Press


High Temperature (2000oC) Brazing Furnace with Tungsten Heating Element


SCHAUBLIN, 225 TMI-CNC turning machine


VF-1 HASS VMC (Vertical Milling Machine)


Zeta Sizer


Particle Size Analyzer


1500 W Ultrasonic Unit


Rheometer


Attritor


UV Spectrometre


Non Contact Profilometre


Flurimetre


Inverted Optical Microscope with CCD camera with Image Analyzer


Humidity controlled drier


High temperature controlled atmosphere furnaces (2000OC)


High speed Centrifuge of M/S Remi(Max RPM=20000, RCF 37570) 4×100 ml angle head


Planetary mill (1600 watt)


Hi temperature electrically heated furnace of chamber size 200mm×200mm×200mm max temp 1800oC


100 Watts Ultrasonic processor


Ceramic ball lapping machine


Micro hardness tester (2 kg)


Contact type surface profilometer


High temperature Hot Press (2200C, 40 Ton)


Precision Surface Grinding Machine


Triboindenter (Nanoindenter with in-situ SPM facility)


Fischerscope (Nanoindenter with Optical facility)


Scratch Tester


Hardness Tester (Vicker''s and Knoop tip)


Fully Automated Universal Testing Machine (1 KN, 100 KN, 100 N load cells)
Name
Designation
Expertise
Dr. Rajat Banerjee

Principal Technical Officer

Fracture Mechanics of Brittle solids, Thin Film Coatings, Nanomaterial Glass Composite, Opto electronics Material.
Mr. Sumit Guha
Senior Technical Officer – III

Behavior of Tensile – Compressive Strengths, Modulus of Elasticity and Flexural Strengths of Rigid Bodies, Materials and Composites.

Finite Element Analysis and Modeling of Stress Contour, Strain Regions, Deformation Studies etc.

Flexural, Shear Behavior and Analysis of Rigid Bodies, Materials and Composites etc.

Structural Fabrication and Erection of Mould Handling and Mould Tilting Facilities of RBSN Radome prior to sintering etc.

Dr. Soumya Sarkar
Senior Technical Officer – III

Pressureless & Pressure-assisted Sintering under Controlled Atmosphere, Pre-ceramic polymer derived Open/Closed Cell Carbide Ceramics, 

Ceramic Matrix Based Composites Reinforced with Non-oxide Based Nano-structures, Chopped Micro-Fibres & Particulates, 

Tribo-mechanical characterizations, 

Nano indentation,

 Fractography,

 Processing-Microstructure-Property Relationship

Mr. Sandip Chakraborty
Senior Technical Officer-II

Operation of furnace, advanced characterization instruments like thermal analyzer, high temperature dilatometer.

Maintenance of electrical parts of instruments, computer software useful for different machines and programming.

Mr. Sumantra Basu
Senior Technical Officer-I
Operation and maintenance of high temperature controlled atmosphere furnace, chamber furnace, spark plasma sintering furnace, hot isostatic pressure furnace. Expertise in thermal conductivity measurement and sputtering.
Mr. Pranab Pal
Senior Technical Officer (1)
CNC Milling, Nano Indentation, Co-ordinate Measuring Machine, Universal Testing Machine, Surface roughness tester, CAD-CAM.
Mr. Ramprasad Mondal
Technical Officer

Operation of CNC Turn Mill Centre, Surface Grinding Machine, Wire EDM, Vertical Milling Centre, Ultra Precision Lathe with Laser Assisted Machining (LAM).

Design, Drawing and manufacturing of Precision moulds and components using CAD-CAM softwares like SOLIDWORKS, AutoCAD, CAMWorks, CADMAcRO, DIFFSYS etc.

Operation of  NDT testing machine X-Ray Mico CT.

Mr. Subhendu Bikas Mondal
Technician-II
Operation and maintenance of high temperature controlled atmosphere furnace, chamber furnace, spark plasma sintering furnace, hot isostatic pressure furnace. Specialisation in instrumentation.
Mr. Sanjiban Das
Technician-II

Ceramic powder preparation, slip casting and characterisation of ceramic samples.

Operation of Rheometer, particle size analyser and surface area analyser.

Mr. Naresh Kumar Oraon
Technician-II
Operation of Precision Surface Grinding and machining using computer aided CNC turning machine, and Abrasive water jet machining.
Mr. Subhankar Bera
Technician-II
Operation and maintenance of furnaces. Electrical parts maintenance.
Name
Designation
Project/Research Area
Supervisor
Ms. Sampa Maity
Project Associate-I
Reaction bonded silicon nitride (RBSN) ceramics (MLP0026)
Mr. Ajitesh Kar
Mr. Mainak Ghosh
Project Associate-I

Development of Cf/SiC Ceramic Matrix Composites for Aircraft Brake-disc Applications (HCP-0036)

Mr. S. Gangadharan
Mr. Sayantan Sharma
Project Associate-I

High Entropy Alloys for hydrogen storage application operable at room temperature.    H2T Mission Project (HCP-44)

Dr. Soupitak Pal
Mr. Ravi Kumar
Project Associate-I

Development of Cf/SiC Ceramic Matrix Composites for Aircraft Brake-disc Applications (HCP-0036)

Mr. S. Gangadharan
Ms. Adwitiya Chakraborty
JRF

Functionalization of Red Mud for Simultaneous Remediation of Fluoride, Arsenic and Iron Contaminants from Water and Utilization of Waste Sludge Therefrom in the Development of Glass-Ceramic Foam

(GAP 0176)

Dr.Milan Kanti Naskar

Mr. Bishnu Saha

Project Assistant
Development of Hot-Iso-Statically Pressed Silicon Nitride Silicon Ball: Technology for Hybrid Bearings of Aircraft Application (SSP0203)
Dr. Rajat Banerjee
Mr. Koushik Dalui
Project Assistant

Development of Cf/SiC Ceramic Matrix Composites for Aircraft Brake-disc Applications (HCP-0036)

Mr. S. Gangadharan
Last Updated on August 9, 2023